WordPress offers some of the best real estate themes for those who are in the business. In this article we are going to look at some of them. Here is the list of top 10 real estate wordpress themes, let's take a look at them.
1- Fancify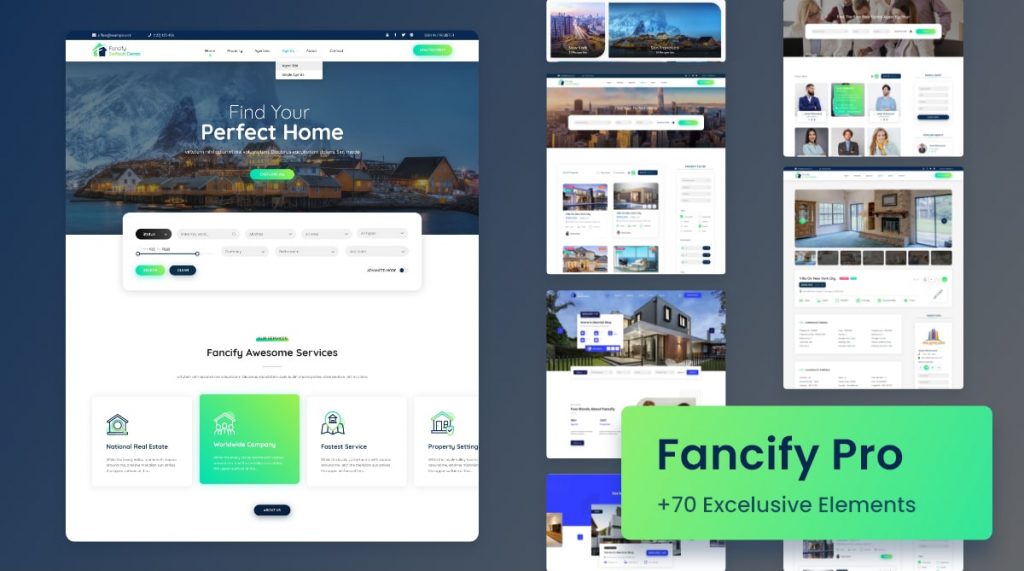 Fancify Pro is a newcomer yet powerful WordPress real estate theme on the market. The modern, simple yet rich features of Fancify makes it a serious competitor to other WordPress real estate theme . This neat quality ensures the high experience of the development team behind this theme.
Main feature of this theme is the ability to drag and drop it, which is possible with the help of elementor page builder to save your time and money.
Fancify uses the WPL Pro plugin. This plugin helps agencies, agents, brokers and companies to easily set up their real estate website. On top of these, It has features such as advanced map functions, various lead capture tools and more. Fancify has a powerful header builder that allows you to customize your site header. Moreover, it is completely optimized in terms of performance speed.
Fancify comes with a package of the best WordPress plugins to ease up your task and greatly reduce your costs. It includes Various options for creating different pages, including for agencies, agents and real estate. You can also transfer your desired information from the previous platforms to this one with a simple click and save your time.
This functional theme is priced at $59. Fancify also has a light version or so-called Fancify lite.
2- Homepress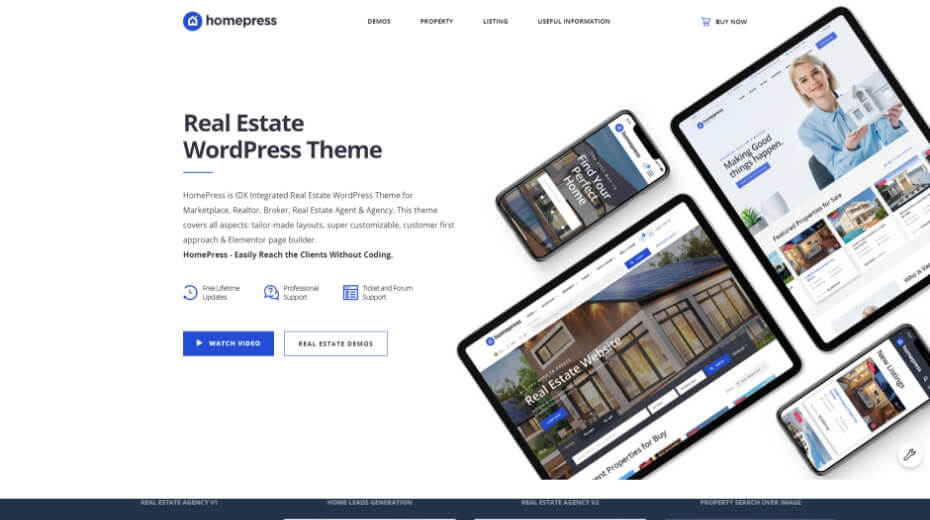 Homepress is an IDX integrated real estate theme targeting many parts of the real estate business like realtors, brokers, agents & agencies. Homepress as its developers claim is a super customizable theme which covers all aspects like: tailor made layouts, customer first approach & Elementor page builder.
Homepress comes with 12 different layouts which is a big number that can cover almost every taste of design.
Homepress has some of the most important real estate features. One of them is IDX Broker & iHomefinder integration. Another great feature is customizable search form, you can add your favorite search fields or even remove them.
The number of fields you can have is unlimited according to their website. Radius search and geo location is also available for those who want to search a specific area such as their neighborhood or even other nearby areas.
Elementor page builder plays a huge role in this theme and helps you build any page in no time thanks to its drag and drop feature.
Homepress is available for only $59 on themeforest.
3- Real Homes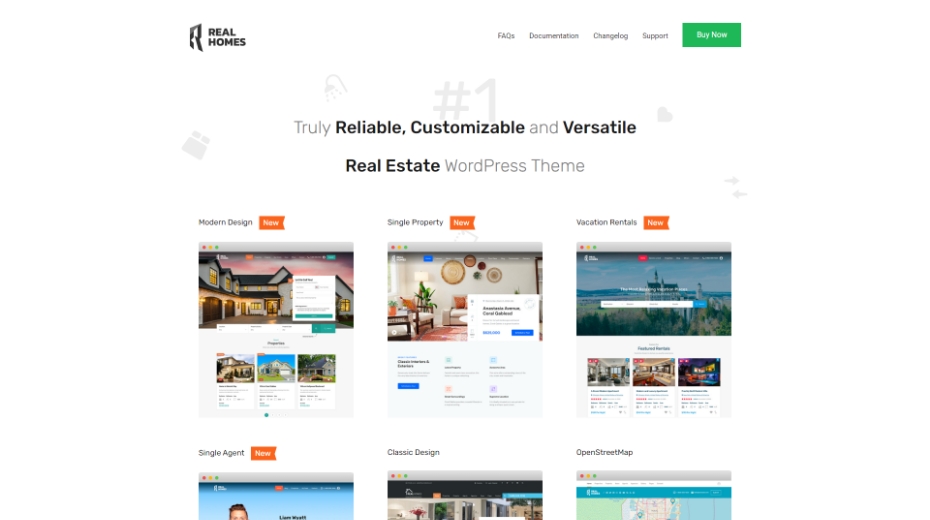 Real Homes might look simple on the first sight but it comes with tons of features. 9 Different home layouts for any user. Great integrations such as Elementor, Revolution Slider, WPML and others.
You can create a unique property page using features like, floor plans, property attachments. This helps you upload blueprints or other handy documents. You can even compare different properties with each other and decide which one suits your family and your money the best.
Installing a new theme might take a lot of effort for some users, big data, numerous images, pages and texts might make it difficult to immigrate to other themes. There's a very handy feature called one click demo import which reduces the effort volume and makes it easy to transfer your data. Real Homes uses this feature for better user convenience
If you ever come across any problem you can simply refer to the complete documentation of Real Homes to dissolve the problem.
Real Homes is now available on themeforest for anyone to download.
4- Houzez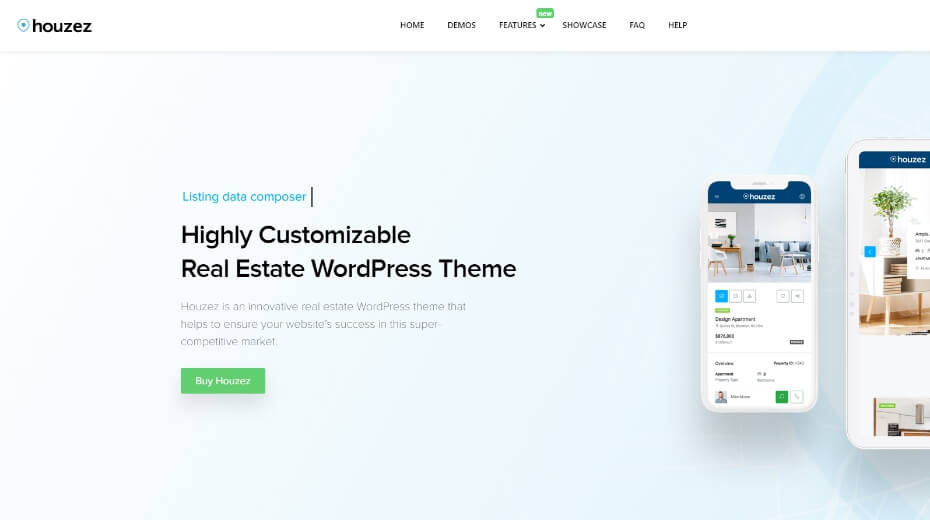 This theme is one of the top themes in the field of real estate and has the necessary facilities for a successful theme in this field. Houzez has countless possibilities, some of which we will mention briefly in this article.
One of the impressive features of this theme is its admin panel. This panel is suitable for both agencies and real estate agents. According to their website, this panel is accessible from both desktop and mobile and is fully responsive. In this panel, you can see how users interact with your property. You can also manage your property, see your favorite properties in the favorites list, and more.
Houzez has 18 different demos with their own style and context, which can be said to include any type of taste. Websites designed by customers can be seen in the showcase section of their website. This is a good source of inspiration for users who want to use this theme.
Houzez strong documentation and support is a great help for novice users. This theme is only available for $ 59 in online stores.
5- MyHome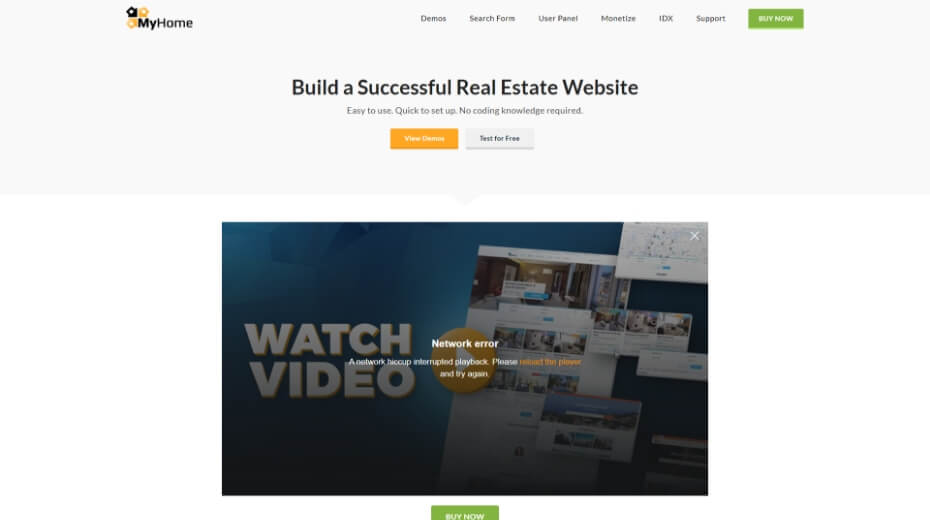 The next mentionable theme is myhome. myhome is a simple theme on the outside but powerful on the inside. Like any other real estate theme, this theme has a useful feature for any user to grow their business.
One of the interesting and perhaps different features of myhome is having different demos. For example, one of its demos is for users who are active in the field of real estate investing. Barely any other theme comes with this unique feature. This theme also has 3 main categories of demos, namely, real estate, agencies and agents.
There is a section on myhome website called ready-to-use home pages that will clearly save you time.
One of the most important components in any real estate theme is their search form. myhome has a fully editable search form with the ability to add and subtract different fields. This includes building type, price, building common, and so on.
Do not forget that the user panel is an integral part of any real estate theme that myhome also benefits from.
6- Real Estate 7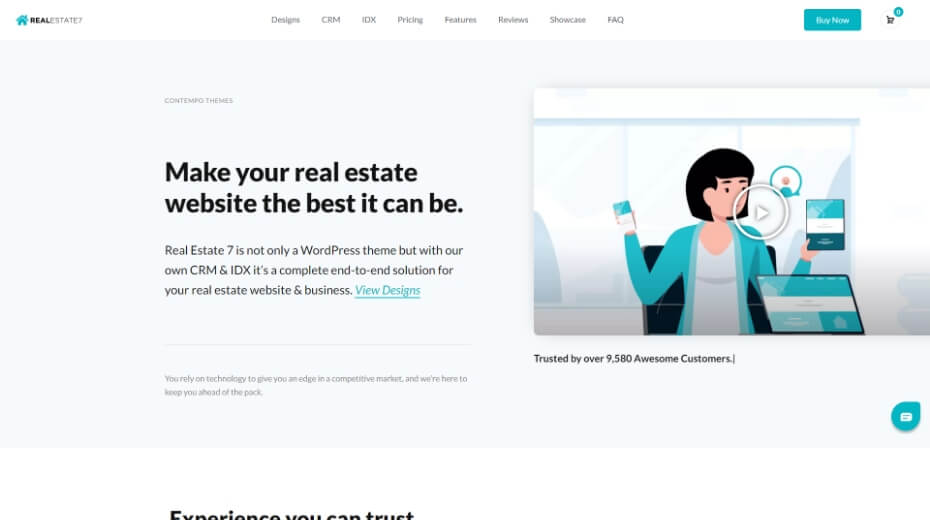 Real estate 7 is the next theme in our list. According to the developers, they have been working in the real estate domain for almost 13 years since 2008, so we can expect strong and practical products for this purpose.
Real Estate 7 has a section called pre-built websites that easily integrates with the elementor page builder and can be downloaded via the setup wizard.
This theme is even compatible with wp bakery page builder and has special demo versions for this page builder.
Real estate 7 is compatible with the best WordPress plugins such as elementor, yoast, mailchimp and WPML and makes it very easy to work with for users.
A feature called CT Leads Pro lets you identify and evaluate potential customers, as well as lets you see the listings they see and the last time you contacted them.
It should be noted that the user panel of this theme with useful and functional capabilities as well as an understandable appearance is a necessary feature in this regard.
The proprietary IDX integration in this theme shows about 99% of the homes for sale that have been added to the directories. If you have any questions in this regard, you can fix it through live chat.
Real Estate 7 is available to download for $59 in digital stores.
7- WP Residence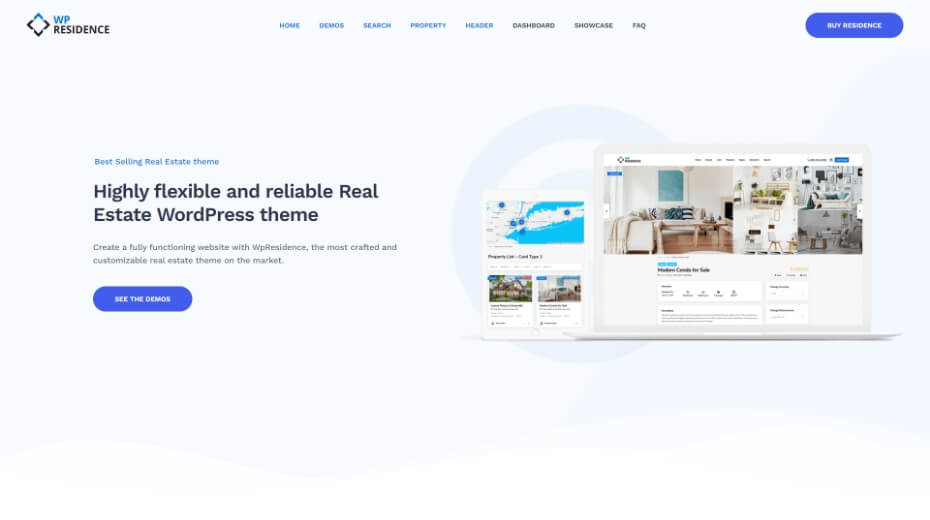 wp residence According to its creators is the most versatile real estate theme. We must now examine the reason for this claim. The developers claim that wp residence has more than 350 theme options that will help you build a modern and unique real estate website.
This theme has 14 different demos. Namely Chicago demo, Rome demo, Tokyo demo, Sydney demo and agent demo.
WP Residence is compatible with top WordPress plugins like Contact Form 7, yoast SEO, Slider Revolution, Woo Commerce, etc. and if you purchase a license for this theme, top plugins like WP Bakery, Rev Slider and the final extras are available for use.
This theme has 9 different models of search form that can be a great help for users who are looking for their desired property. You can place the search form almost anywhere on the page, add or remove the fields you want. You can also make the search form sticky so that it can be seen when scrolling.
This search form has features such as ajax code search, auto-complete search, radius search and geo location, support for currencies, and more.
The property page of this theme has 34 special options to give you the flexibility to be able to create your property page as you wish.
This theme is now available for download and purchase in all digital stores, including ThemeForest.
8- homey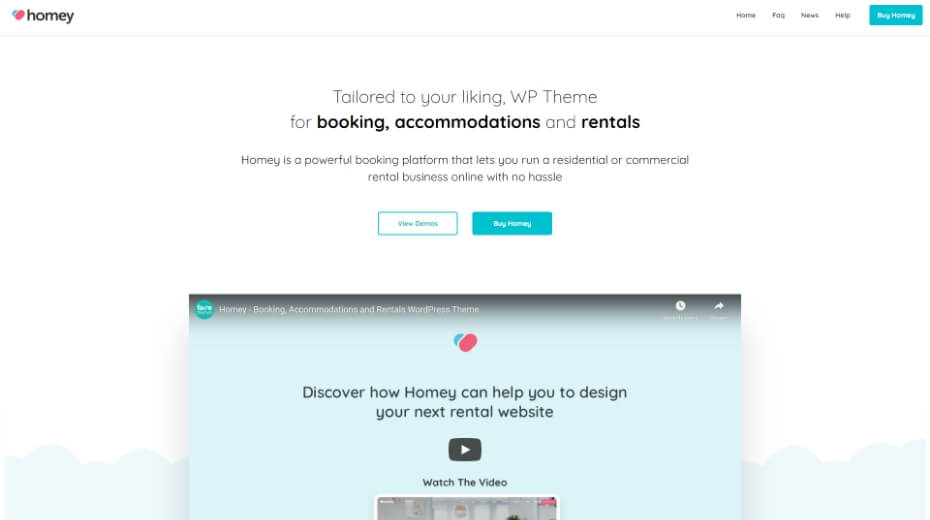 homey may not be in the category of real estate themes because this is an online booking theme. This allows you to start and manage an online booking business.
Despite the fact that this theme is different from the other themes in this list, it is better to talk briefly about the demos of this theme. This theme includes 10 different demos, including 4 default full demos, a demo for offices, a demo for stores, and more.
One of the good and practical features of this theme is its unique booking system. This simple and clean design brings a special user experience to the user.
homey uses woo commerce which allows you to receive and manage multiple simultaneous payments for your reservations. The booking forms of this theme are also very practical and easy to work with for new users. You can also easily make your reservation in different times such as daily, monthly, weekly and even for a night..
The search form, which is an integral part of any theme, is well embedded in homey and is fully customizable.
The focus of this theme on header personalization is also high. Basically, are able to choose from one of the 12 header models and use it to your liking.
homey with more than 15,000 happy customers has a strong support team to answer your questions.
9- Wealty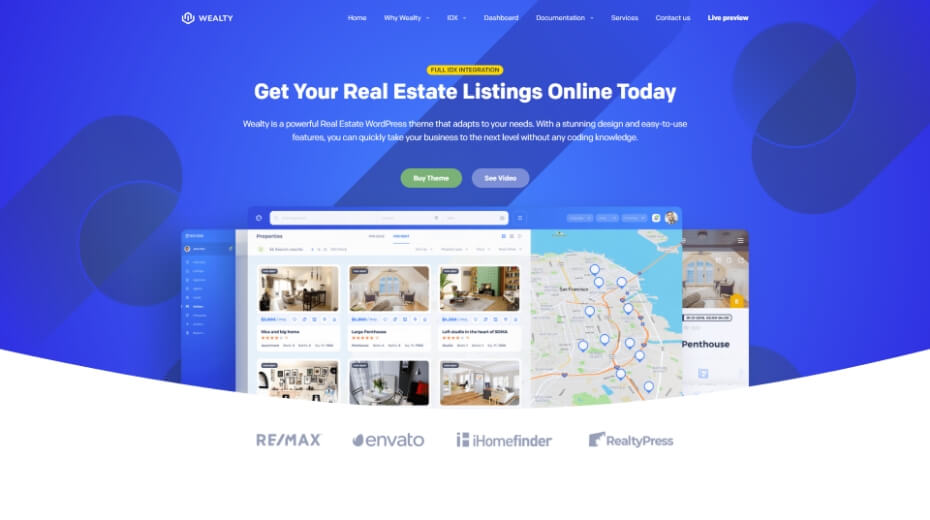 Wealty may be a little unfamiliar with the rest of the names in this theme. Yet it is a complete and comprehensive real estate theme. Wealty version 7 has been recently released and it adds new and useful features. Firstly, A special demo for directories where you can display all kinds of places that are suitable for accommodation. Secondly, scoring and commenting module recently added to this theme to make decisions easier for users and so on.
There are 15 different demos for this theme, which include demos for agencies, luxury demos, demos for agents, demos for construction companies, and more.
The wealty user panel also has functional features for each user, whether it is an agency or an agent.
Wealty is fully compatible and responsive on different platforms and will maintain its integrated structure.
Wealty is good at loading search results. It displays search results in great detail so you can make better choices. It also give you the option to change color of the menus and the theme as a whole to suit your taste. It is up to you to choose the appearance of the menus and so on.
The wealty price is only $ 59, which has good and practical features comparing to its price.
10- RealtySpace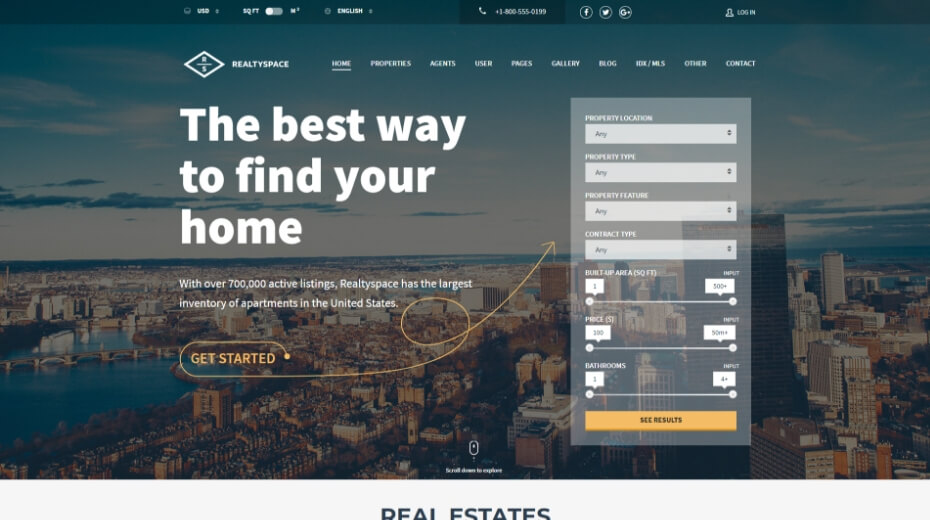 realtyspace is mostly active in the field of listings, and according to them, they have more than 700,000 active listings. In fact, it is one of the largest directories in the United States.
The main focus of this theme's features are on convenience, easy to find results, cost savings. In addition. good sales and marketing.
Advanced filtering of this theme allows you to narrow down your search results. Therefore, you can see better and more relevant results.
If you want to optimize your page, then short codes will come to help you here. Plus, that you can get the items you need, whether it is a small photo gallery or a video, to place in your pages.
Using the front end submission feature, users can submit their property to website. After review, listings will show up in for customers. Multi language support is also possible thanks to the WPML WordPress plugin.
This theme comes with unique features that can be downloaded from the Envato market.