A quick search on the internet will show dozens of articles and professional ads promising a responsive, free, real estate theme. However, once you get them, you end up having to try another plugin to be able to implement the features you need. In their defense, the real estate business involves multiple transactions. In addition, it is often hard for tech companies to catch up. However, there are a few products that have managed to bring all the features in one place. One of these themes is the Fancify real estate theme.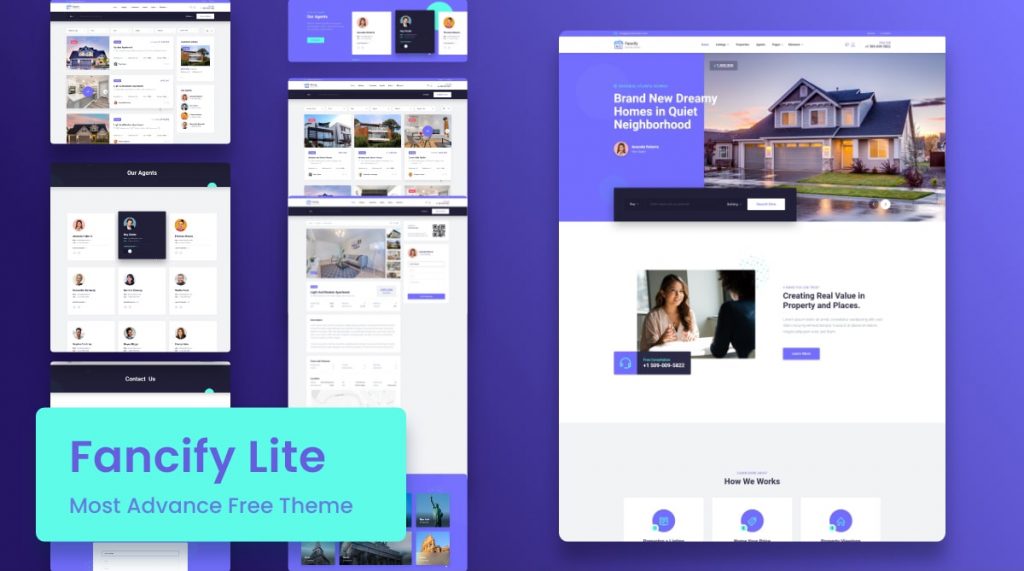 What Is Fancify Real Estate Theme?
Fancify is the most customizable real estate theme for WordPress. It has all the features set in order to bring the best experience to users and admins.
Fancify is the first real estate WordPress theme that comes with MLS and built-in IDX features. It takes advantage of Elementor page builder. It provides a visually appealing experience, not only for the developers but also for the end users.
What Makes Fancify an Ideal Real Estate WordPress Theme for IDX Websites?
Here are a few facts about Fancify that makes it an ideal choice for creating a real estate website:
Elementor-ready which makes customization faster and more convenient.
The demo is free, and it's ready to import.
Property profile is free and Agent & Agency are available with a fee.
comes with 11 listing layouts, which provide myriad selections for different real estate business types.
It offers over 70 premium Elementor widgets.
The theme installation and its demo import are done with a single click.
It is responsive across all devices and platforms.
It is well-documented and enjoys a dedicated support team.
Key Features built on Elementor for realtors :
Property Listing ( fully customize able filters such as kind of property, listing type, property type, Min or Max Price, Location, Order By, Order and etc. )

Property Listing Carousel ( many premade sliders to show your desired properties. Plus, all filters above are present here as well )
Build a Gallery of Locations you have properties in
Recent Property Listing ( To always show latest properties on sidebar or any other places you want
Search in Properties ( All fields can be selected dynamically and and you can choose them to be select, input, slider or checkbox)
A widget to show list of your agents
Carousel widget to show agents
Single Property Listing ( Property Profile built via Elementor gives you all flexibility you need )
Footer Builder
Tools to Create your Real Estate website
In order to sell home or rent a property you will need more than a simple website. Fancify is natively built for realtors and all real estate industry. It is SEO friendly for google search purposes. In addition, has various professional real estate tools. Noticeably, general Elementor tools are as below.
Title Widget
Testimonial Carousel
Property Listing
Agent & Agency Carousel ( Agency is a Pro feature )
Icon Box
Button
Carousel Property
Mail Chimp
Recent Posts
Listing Search
List of Agents ( List & Grid view )
Property by Location
Icon box Carousel
Recent Property
Compare
Google Map
Contact Form 7
Recent Agent/Agency
Agency List & Grid
Dashboard
Pricing Package
Property Detail Page of your Property
Equally Important, are the tool to introduce your houses for sale or houses for rent. Also, you may use and IDX or MLS provider. All in all, you could end up with various listings such as condo, apartment, land, office. Not to mention, each of these come with their of feature that realtors care about. In conclusion, you will need a handy tool to perfectly create your property's detail page. Thereby, these are some of handy tools to help you.
Listing Contact
Price Unit Switcher
Property Image Slider
Description
QR Code
Property Title
Social Link
Compare Button
Favorite Button
Print Button
Details ( Fully Dynamic to select desired property details to be shown )
Energy Tag
Walk Score
Attachment
Video
Google Map
Agent Info
Similar Properties
Agency Contact
Floor Plan
Virtual Tour
Yelp
Review
Mortgage Calculator
Next & Previous Property
Profile page for estate agents
It is a fact that, many properties nowadays are sold by real estate agents. Thus, to build an introductory page for agents seems to be inevitable. Therefore, you may need not only to introduce your agents but also provide the best way to contact them. In addition, you could need to show homes and listings provided by agents in their page. Fancify provided all of these in a package as below.
Images ( Agent Cover and profile image )
information of an Agent
Socials
Agent Details
About Agent
Contact
Property Listings of the Agent
Review
Agency Profile Widgets
Images ( Agency Cover and Logo Image )
Title Info
Details Info
Description
Contact
Socials
Statistics
Property Listings of The Agency
Agency Agents list
Review
For more info check Fancify Lite landing page, or Download for free.